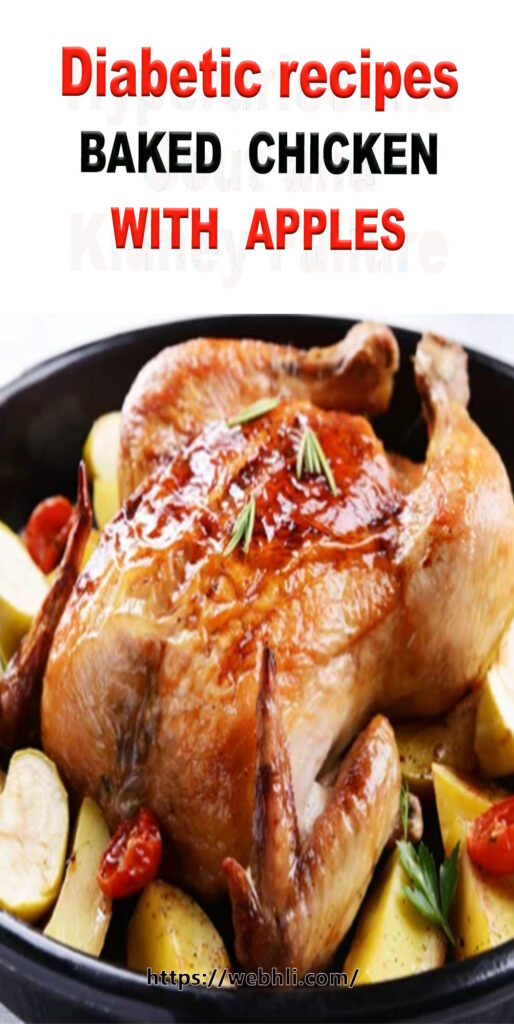 Ingredientes
2 1/2 to 3 lb. chicken, cut up
1/2 tsp. salt
1/4 tsp. pepper
1 chicken bouillon cube
1/2 c. boiling water
1/2 c. apple juice
2 c. sliced fresh green beans, French style
1 c. diced peeled apples
1 tbsp. flour
1 tsp. ground cinnamon
1 oz. bread
Check out these related articles, too:
What You Should Look Out For For Kidney Failure Symptoms?
Kidney Failure Treatment Without Dialysis
Kidney Diet Secrets That Can Reverse Chronic Kidney Failure
The Effects of High Potassium For Kidney
What Is A Healthy Kidney Diet Plan
Diet Tips For People With Diabetes and Kidney Disease
Are Renal Insufficiency And Kidney Failure The Same Thing
5 Natural Supplements For Chronic Kidney Disease
Bitter Melon Recipe For Diabetes
Instrucciones
Sprinkle both sides of chicken with salt and pepper.  Place chicken on a rack in a shallow open roasting pan.  Bake in hot oven (450 degrees) until browned, about 20 minutes.  Reduce oven temperature to 350 degrees.  Remove chicken and rack; pour off any fat from pan.  Return chicken to pan.  Dissolve bouillon in boiling water.  Pour over chicken along with apple juice.  Stir in green beans. Cover and bake 25 minutes.  Stir in apple.  Cover and bake 10 minutes longer.
Meanwhile, in small saucepan mix flour with cinnamon.  Blend with 1 tablespoon of cold water.  Stir in hot pan liquid.  Cook and stir until mixture boils and thickens slightly.  Serve with chicken and vegetables.
Good Energy Food for Diabetics
10 Simple Food Concepts Every Person Living With Diabetes Should Know
Making Cheesecake For Diabetics
Enjoy the Taste and Benefits of Diabetic Foods
Will The Mulberry Leaf Help Your Diabetes?
5 DIABETIC FRIENDLY SALADS Some Tasty
DIABETIC LEMON COCONUT COOKIES Some Tasty